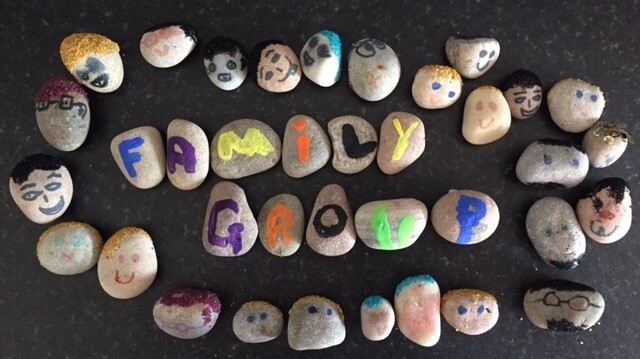 We're often asked what sort of changes are seen in children and their families who attend Family Group. One of the ways that Family Group is unique is that it's not a short-term therapy model. Families can attend for as long as they need to, on average for about a year. In that time, significant and sustainable change can take place, not just for the children attending but also their parents/carers.
Let's take a closer look at one of the children who benefitted from Family Group*
Aleksy is 8 years old. He attended Family Group with his mother Rosa for 10 months. Aleksy lives with his Mother, Father and two younger siblings. The family are originally from Poland.
Difficulties at home and school
Rosa described Alesky as "a difficult child" and reports that he is aggressive and disruptive at home. Rosa wanted to come to Family Group so that she could change the way she dealt with Aleksy's behaviour and to improve their relationship. She was worried that he was turning against her.
Before attending Family Group, both Aleksy and Rosa said that their relationship was difficult and they often shouted at one another on a daily basis. Rosa felt that she had not paid Aleksy enough attention in recent years as she was so busy with his two younger siblings.
This sense of rejection manifested itself in aggressive behaviour not only towards his mother but also his younger siblings: "He would shout "You're not my sister!" and would fight with the younger children. Rosa explained that she would try to calm him down and he would continue to shout at her and ignore her pleas to stop fighting.
At school, Aleksy had difficulty in concentrating in lessons; his teachers have described this as "being lost" as if he goes off into a daydream. His lack of attendance and poor engagement with lessons meant that he could not keep up with all that was expected of him at school. When asked why he could not always concentrate, Alesky said: "Well, I felt so tired, I just, well I'd get sleepy and want to lie on my bed, I couldn't think".
Rosa felt guilty a lot of the time before attending Family Group because she knew that Aleksy was not happy, but she did not know how to deal with him. When she heard about Family Group she wanted to attend to see if it would help Aleksy's behaviour at home and at school.
Positive changes for both parent and child
Attending Family Group has been a positive experience for Rosa and Aleksy; they both enjoy coming to the sessions and Aleksy, in particular, does not want to give up this time with his Mother.
Coming to Family Group has, according to the school, "brought him out of his shell and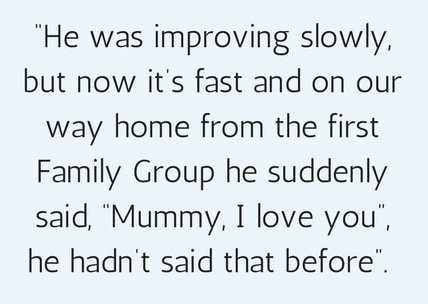 dramatically improved his attendance". His mother believes the weekly Family Group sessions have helped him to become less anxious and angry.
Rosa admitted that she was shy and slightly afraid about attending Family Group as English is not her first language, but as the therapist explained: "Family Group can provide a safe place where adults with EAFL are more vocal and that is great for them". Aleksy's progress has been noted by the therapist too, she explained that he has developed a new found confidence and is "more relaxed and smiles more often".
Rosa and Aleksy have also taken Family Group strategies on board at home and both agree the targets are motivational for them and when they report back at Family Group, they are both proud when Aleksy does well. The time spent together is clearly providing benefits for both the parent and the child.
Rosa admits that before coming to Family Group, she used to shout a lot and feel frustrated at what she perceived to be an inability to talk to Aleksy. She now feels calmer, more in control and enjoys being with him. To emphasise the importance of Family Group, Rosa stated that "It's changed us both at home and in school; I want to keep coming, it's so good, I want to come each week".
The summary here refers to the benefits Rosa has seen from attending Family Group:
1) Improved parent/child relationship
Rosa explained that the most important issue for her was the significant improvement in her relationship with her son. She felt that he was always fighting for her attention but now they have one to one time each week, he has changed. Rosa stated that "He was improving slowly, but now it's fast and on our way home from the first Family Group he suddenly said, "Mummy, I love you", he hadn't said that before". The shouting has stopped and Rosa realises that she does not need to shout to ensure that he listens to her.
2) New routines at home
Rosa knew that some things at home had to change so that she could make more time to be with the children and share some activities with them. She explained that the family was getting into the habit of coming home from school and the children would be straight on to a computer or tablet. After talking this through at Family Group, she took the advice of another parent and instigated a 'weekend only' policy for using the tablet/computers. At first, this was hard for them all and she described the first night as "hard and really sad for me" because "Aleksy shouted, "I want it, I want it". I stayed strong and that evening he tried asking and asking for 2 or 3 hours". Rosa was proud to explain that Aleksy cooperated and she produced some new pens, papers and drawing tools and he drew her a picture. She had decided not to simply withdraw the tablet, but to ensure he had an alternative activity; the 'weekend only' policy is now in force and all of the children have other activities on offer during the week.
3) Learning to new strategies to support change
Rosa freely admits that she could not deal with Aleksy before Family Group and always responded by shouting at him; however, she has learned from the other parents and the therapist to employ strategies to calm situations rather than adding further tension. Rosa accepted that she had to change too and so at home she will sit with the children and talk when they are upset. She has agreed individual time with all of her children now and says that home is a much calmer place.
The summary here refers to the changes that have taken place for Aleksy since attending Family Group:
1) Improved attendance at school
Aleksy's Mother, the therapist and the school all noted that the swiftest change for Aleksy was his attitude to attendance which went from a poor 70% up to nearly 100%.
2) Improved Behaviour
In the past, Aleksy would become aggressive and shout, usually at his Mother, when he could not get her attention. The targets for behaviour have been particularly successful for him. Alesky also explained that he has a new routine to check his bag and ensure he has what he needs; he admitted that this made him feel more secure and meant that he scored well in his targets.
Aleksy has clearly responded positively and relatively fast to the Target Card intervention. He demonstrates a competitive attitude which means he strives to achieve well each week and this seems to have improved his general abilities to concentrate and focus on tasks. His Mother is very determined that he keeps improving and that she keeps herself more fully involved in his life.
3) Positive about school
Aleksy now enjoys coming to school and in particular, attending Family Group. His mother reports that when he comes home, he will talk about the Family Group activities with his sister and tell her what they did or made; recently she has asked to attend school and Family Group too! In the past, his disengagement with school meant that he would rarely answer any questions from his parents, but recently his Mother witnessed a pleasing change. She explains, "A month ago they started learning about the Romans; well he came home and told me everything about the Romans. And then he asked, "Do you know about the Romans?" And I said, "no, I know about my own history in Poland but tell me about the Romans", and he really did, he loved it"
Aleksy says that now he likes school because he likes coming to Family Group; he feels comfortable at school and "I like playing music, my recorder – we learn B and A; and I really like art. I'm getting better at it – we do lots of that in Family Group". Aleksy is emphasising his enjoyment of the practical activities in Family Group, but is able to reflect on how he is progressing in the classroom too.
4) Improved confidence
The school and therapist both agreed that Aleksy is more confident since attending Family Group and that his bond with his mother appears stronger. Rosa is happy that Aleksy is able to say that he loves her and to tell her more about his day to day life.
Benefits to the school
Rosa has recently volunteered to help in school and has just received her DBS check through so is able to come in and take an even more active role in the school community. The theme of developing a school community is one that Family Group facilitates with all families that participate: a seemingly small change but one that can make a big difference to the school. The school notes that Family Group "makes a big difference in terms of creating a stable, cohesive school community".
Sustainable, long-term change
Family Group has made a real difference to the lives of Rosa and Aleksy. Improved home life for the family, better attendance and behaviour at school for Aleksy and a closer working partnership with the school means that everyone benefits from Family Group.
*Due to confidentiality, all names have been changed in order to protect the identity of the families.
Mark Griffiths
15:56, 21 Mar 2018 by Joanna King